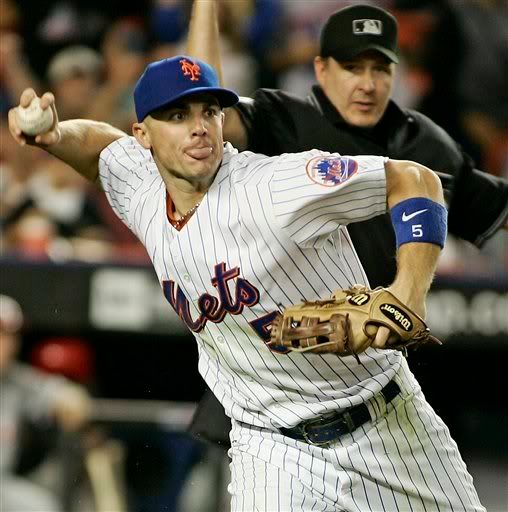 When the season is over the Mets hold a mutual buyout option on Carlos Delgado, just being a contributor won't be enough to justify his contract (16M with a 4M buyout) he needs to completely breakout and return to his Blue Jay form. The Mets have Michel Abreu who at 33 y/o might be major league capable but at his age could only be considered a short term solution and the only prospect would be Mike Carp who is struggling in AA. More then likely the Mets will be in the market for a 1B but the best candidate Mark Teixeira will get alot of attention especially from the Yankees. The rest of the 2009 free agent class of 1B aren't young or very remarkable.
So listening to the WFAN today (660AM NY) a caller suggested that David Wright be moved to 1B. The caller suggested that Wright's throwing troubles could be resolved by playing first while the less strenuous position would save his legs for offense. The host Mike Francesa stated that he believed Wright's future was at first base but wasn't sure when he'd be ready to change positions. Co-Host Chris Russo countered by saying that Wright has said in the past that he would move, of course that was in reference to Alex Rodriguez. The debate went on that at this early stage in Wright's career it would have to be a very good third baseman for him to willingly move to 1B. There's not much available in regards to free agent 3B or SS that could be converted to 3B (
2008 free agent list
). Is 2009 too early to move Wright or with the probable departure of Delgado the right time.........